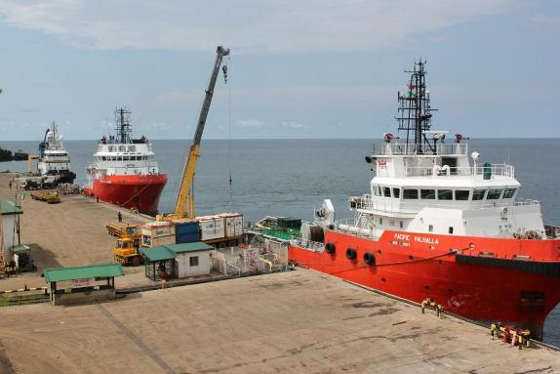 Luba Freeport is a logistics centre for the burgeoning oil and gas industries in the Gulf of Guinea. It is a natural deepwater port situated in a large secluded bay providing depths of up to 45 metres on the southern side of Bioko Island, Equatorial Guinea. The port is a joint venture between Government (37%) and Lonrho (63%) and managed by Lonrho.  Importantly, Luba is surrounded by open land.  This allows it to have room for expansion, in contrast to most African ports which are seriously congested, "city locked" and have no further land available to cope with the expanding African market.
Luba Freeport's Tax Free status in respect to custom duties, on material imported into the zone and in transit for countries outside of Equatorial Guinea, and its central geographical location, make Luba Freeport a unique choice for a West African regional hub.
Luba Freeport is a "one-stop shop" facility under constant modernisation and development for part of the Equatorial Guinea government's vision for a single location Oil Service Centre. The company offers world class facilities and services provided to international oil industry standards. Operationally vessels come into the quay, off-load, receiving their fuel, bulk chemicals, water and any other cargo without the need to change berths.
Lonrho has constructed an additional 150 metres of deepwater quay that has more than doubled the handling capacity of the port to meet the growing demand for oil services in the region.  Luba Freeport now provides over 50 hectares of usable quay and over 100 acres of client and port support operations.
Exisiting clients operating from the port include the major corporations in the oil industry in West Africa, such as  ExxonMobil, Schlumberger, Amerada Hess, M-I Swaco, Noble Energy, Marathon, SBM, Baker Hughes, LOTEG, Nalco, Ophir, TLC, Panalpina, Tenaris, PetroSA, AMT and CNOOC.
Examples of client agreements at Luba Freeport include a 60,000 sq metre logistics facility that was completed for Mobil Equatorial Guinea Inc. («MEGI»), becoming Luba's largest anchor tenant. This world class Mobil facility serves as the base for MEGI and includes warehousing and office space, marine hose storage, API (American Petroleum Industry) specification pipe-yard, an inspection shed, wash bay and a storage area. MEGI's establishment in Luba Freeport demonstrates its commitment to Luba as a regional hub for the expanding Gulf of Guinea oil industry.
Within Luba Freeport, the port offers accommodation, catering and mess block, and a new medical facility staffed by trained medical professionals capable of emergency response.
More information

Administración de Puertos de Guinea Ecuatorial (A.P.G.E.)