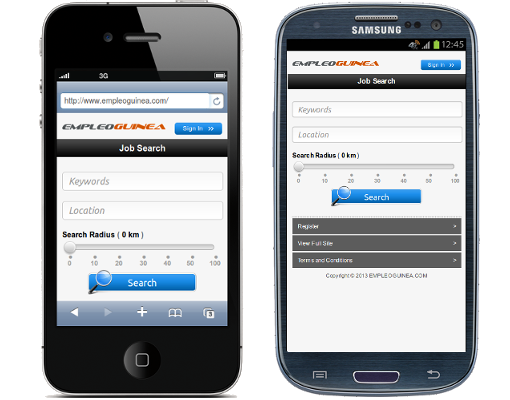 EmpleoGuinea invites you to discover the next generation of their brand new mobile version to help job seekers in Equatorial Guinea.
This site is fully compatible with most mobile browsers such as: iPhone Safari, Android, Internet Explorer, Nokia HTC and Opera Mini. The mobile version includes simplified site functionality allowing users to easily find what they need. Job Seekers can register on the job board, search jobs by keywords and location, save job alerts without leaving the Mobile Version. They are able to manage their profile, resumes, saved jobs directly from their accounts.
This moblie version application provides all the main features any job board has:
searching for a job
applying for a job
saving a job for later review
creating job alerts
emailing job to a friend
Not only is this a great app for job seekers but it's also good news for employers as in making the application process easier, we expect an increase in interest from candidates, allowing us to find the right person for your business very quickly.