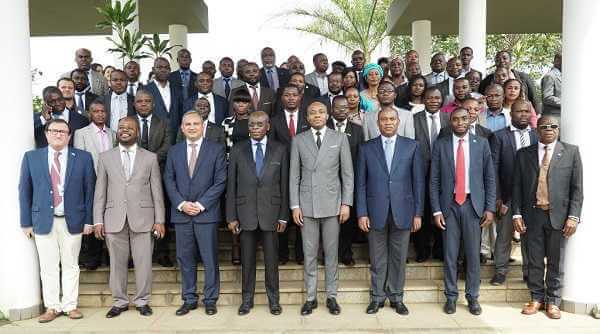 The Government of Equatorial Guinea is launching an extensive 18-month project to develop its national investment plan which will position the country to participate in the international initiative for Reducing Emissions from Deforestation and forest Degradation (REDD+).
With the technical support of the Food and Agriculture Organization (FAO) and funding from the Central African Forest Initiative (CAFI), Equatorial Guinea is set to finalize its National REDD+ Strategy and quickly move to the planning of its REDD+ investments. The government says these investments shall fit with its broader strategies.
Eucario Bakale, Minister of Economy, Planning and Public Investment, Francisco Mba Oló Bahamonde, Minister of Forests and Environment, and Olman Serrano, FAO Representative, opened meetings attended by over 60 participants from the government, the academic sector, civil society and the private sector.
"One of the strategic key objectives of the National Economic and Social Development Plan 'Horizon 2020' is about the protection and conservation of the natural resources and thus, in line with the objectives pursued with the country's national investment plan on REDD+," said Minister Bakale.
This CAFI project follows previous country efforts to prepare for REDD+, including the crucial approval by the National Parliament of the Readiness Preparation Proposal (R-PP) for REDD+.
"Our government is committed to protect the biodiversity and take actions to improve forest utilization practices for the benefit of mankind in general and for our country's development in particular," added Minister Mba Oló Bahamonde.
The launching of this CAFI-funded project is a significant milestone in building national consensus around REDD+ implementation and future investments, and in strengthening the country's efforts towards low-carbon development. Participants particularly welcomed the opportunity given by CAFI to reinforce joint planning and work between multiple sectors and actors.
Initial meetings are aimed at raising awareness of the CAFI initiative, the REDD+ process and to reach agreement on a work plan for the next eighteen months, leading to the elaboration of the National Investment Plan on REDD+.
"The investment plan will include a number of important activities necessary to contribute to the diversification of the economy by improving natural-resources utilization practices," said FAO's Representative Serrano.